---
NATIONAL SERVICE SCHEME
---
Motto : Not me but you Launched : 24 September 1969 Website : nss.nic.in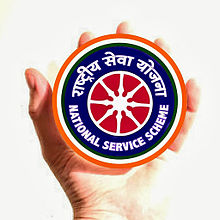 The National Service Scheme (NSS) is an Indian government-sponsored public service program conducted by the Department of Youth Affairs and Sports of the Government of India. Popularly known as NSS, the scheme was launched in Gandhiji's Centenary year, 1969. Aimed at developing student's personality through community service, NSS is a voluntary association of young people in Colleges, Universities and at +2 level working for a campus-community linkage.
For rendering social service, the college has three NSS units with capacity of 300 volunteers. The units are looked after by three NSS Program officer of the college. The NSS volunteers carry out activities of social utility such as environmental awareness programmes, Blood donation camps, college cleanliness drives, Anti-tobacco awareness programmes etc.
---
RED RIBBON CLUB (NSS Group)
---
The college NSS group stands registered member of Red Ribbon Club which works under the banner of JK Aids Control and Prevention Society. The Club aims at making Aids free society by way of educating its students about HIV/Aids.